I'm the Abominable CPA (@cpawrestles on most social platforms): independent wrestling superstar*, and emotional punching bag to the massive men and women I lock horns with in armories and high school gyms around the country.
* for formalities more than anything else
We return to the way-back machine to the September 4th, 1995 first ever episode of WCW Monday Nitro, hosted by our Saturday Night specials: Eric Bischoff and Steve 'Mongo' McMichael, from the Mall of America in Bloomington, Minnesota!
Bischoff and Mongo greet us at the top of the program. Mongo looks like a character from the Preacher comics.
They are immediately interrupted by Bobby Heenen, who kisses up to Mongo, but Bischoff calls him on his BS (if you haven't been following, Heenan was very critical of the decision to have 'McNuggets', as he called Mongo, as the main color commentator on the debut episode of Nitro).
Opening match is Japanese wrestling legend Jushin 'Thunder' Liger against Brian Pillman!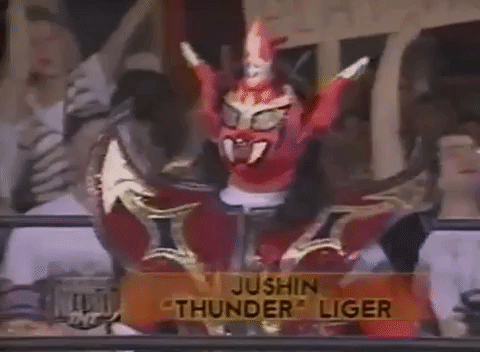 Liger has practically been wrestling since the dawn of time, and he's awesome. He's coming off of a recent injury here.
Heenan takes some subtle shots at Mongo on commentary, calling him a Bronco, in response to the fact that he was famously a Chicago Bears football player for years. Mongo calls him Bobby Hernia.
While this is a fun match, they almost kill each other several times.
Heenan continues to get on Mongo, and Mongo calls him Bobby the Stain. I'm very excited to see how many nicknames they can come up with for each other!
Liger makes me scream on a Frankensteiner.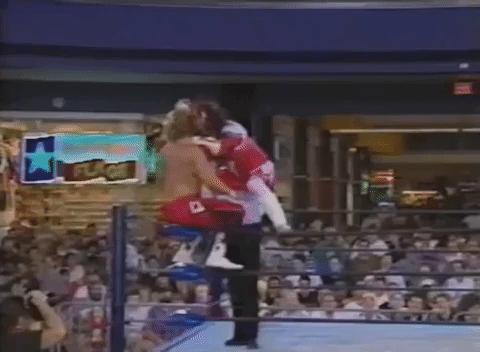 Pillman wins with a victory roll!
Show of respect afterwards.
Sting is talking smack to Ric Flair, very similar to the rants on the eventual WCW Monday Nitro video game!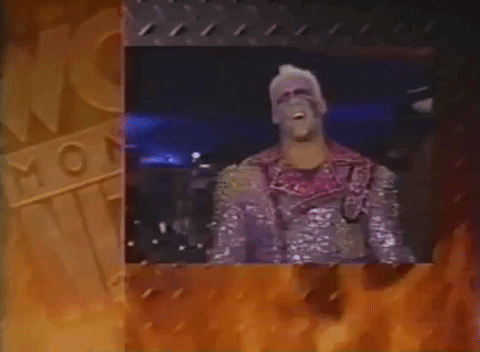 Mean Gene on shill duty for the WCW Hotline!
As per the usual, that's 1-900-909=9900 (kids: get parents' permission before calling)!
We get an on-the-scene update from Hulk Hogan at his new restaurant: Pastamania!
Hogan has Big Bubba in the main event tonight! He's eaten so many Hulk-A-Roos tonight, that he feels sorry for Bubba! I believe Hulk-A-Roos were Spaghettio's, for those keeping score at home.
Up next, we have Ric Flair against United States Champion: Sting!
Mongo starts to take a jab at people watching Monday Night Raw, but Bischoff very animatedly stops him before he can get out the name of the other show.
A fan foreshadows Sting's shady future (or at least that's how I took it).
In what was a gigantic surprise to 99% of the world, but would have been revealed on Twitter a month before nowadays, Lex Luger (who was with WWF as of literally the night before.) comes out to the entrance ramp looking billowy as ever, as Bischoff comically urges to 'GET THAT CAMERA OFF OF HIM'!
Meanwhile, Sting and Flair have a Sting and Flair match. These guys were magical together.
Arn Anderson then comes out to the ring, albeit to much less fanfare.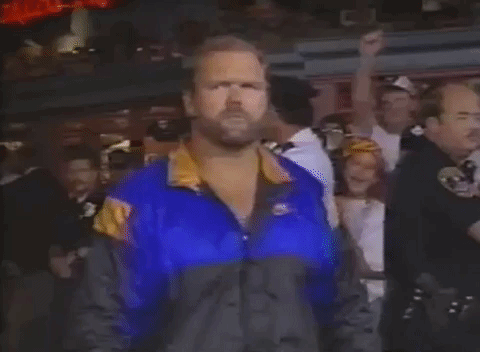 Mongo suggests Luger was getting something to eat at Pastamania.
Sting jaws with Arn, as Flair chops Sting's legs down, and we go to the figure four, but Sting powers out. Flair holds the ropes too long, gets the DQ, which prompts Arn to hit the ring, and a melee breaks out!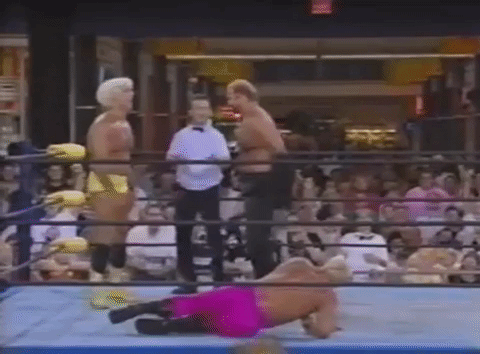 As the craziness dies down, SCOTT NORTON comes over to the announce table and gets in Mongo's face! Macho Man cuts him off and they jaw jack. Macho challenges him to a match RIGHT NOW! Holy crap.
Norton goes to follow Macho into the ring, but Bischoff and Doug Dillinger give him the boot.
Bischoff informs us that we are going to have a look at the incoming Sabu!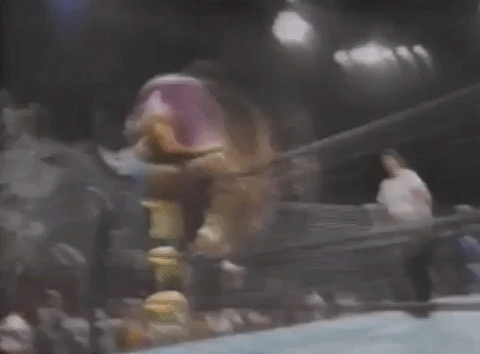 Back from break, Gene is in the ring to congratulate the winner of the Harley-Davidson sweepstakes. I'll just leave this here as a tribute to Hot Rockin' Gene Okerlund. We hardly knew ye.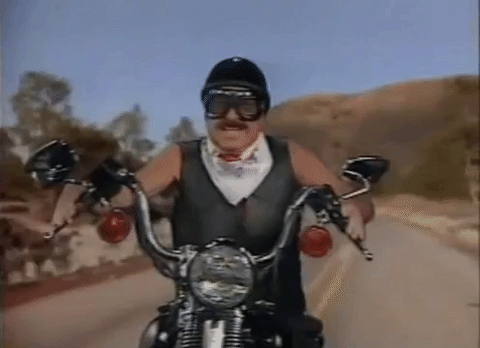 Bischoff plugs this week's Saturday Night, which will feature Johnny B. Badd vs. Dick Slater, and Macho Man and Sting taking on the Blue Bloods!
We are then thrown to an introduction vignette for Michael Wallstreet (please hold IRS-CPA jokes, plz)!
Nvm. He makes an IRS reference, so I guess I'm safe.
He calls the 'new generation' the 'few generation'. Hot cakes.
Out next is Big Bubba Rogers, who will be taking on Hulk Hogan!
On a short break, Macho Man joins us for a very amusing Slim Jim commercial.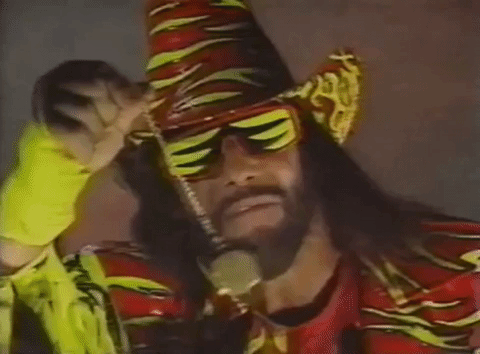 While Hogan comes to the ring, we are informed that Macho Man and Scott Norton will have a match next week on Nitro!
Bobby finally calls Mongo 'McNuggets' to his face, a true Worldstar Hip Hop moment.
Bubba falls victim to a the later-famed Triple H spot. Exposing the business.
Speaking of which, Randy Anderson appears to go for a later-famed 'tower spot', but thinks better of it.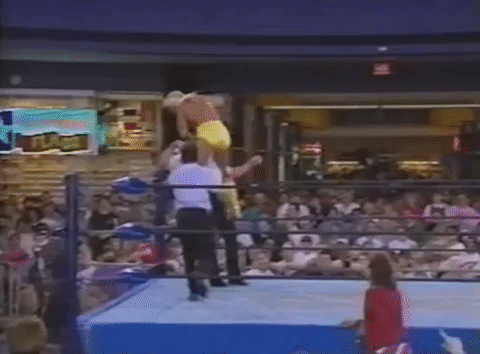 Hogan wins with a leg drop.
The Dungeon of Doom hit the ring, but Lex Luger comes in for the save!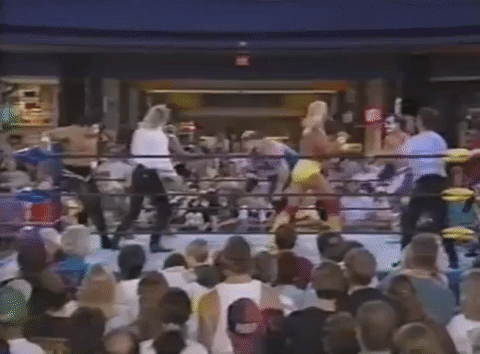 Hogan and Luger square off in the ring, and get in each other's face a bit. Sting and Macho come out to squash the beef, as Hogan tells Luger to go back where he came from, no doubt a precursor to Hogan's later, umm, cultural dilemmas.
Mean Gene comes in to figure out what's going on.
Luger says he's here to take the WCW title. He makes some vague references to not wanting to play around with kids anymore, which I hope is a cheap shot at WWF, but, you know.
Hogan tells Luger to shake his hand with his stinky palm, and he'll defend the title against him next week on Nitro! They then shove each other a little more as we cut to the announcer's table. But. Wait.
Mongo inexplicably has a dog.
We're outta here!
Asset of the night: Arn Anderson for being a total badass.
For CPA's Audit of the Week, check out your fiscally fetch hero taking on the New York State Athletic Commission!
That's all from here. Fill out your customer review card. We don't read them; we just count how many syllables you used.
I'm on most social platforms at @cpawrestles. Catch me doing the big wrestles for WrestlePro this Saturday at St. Joe's Church in Keyport, NJ, and then Sunday in Brooklyn for Tier 1 Wrestling, as well as many other places I will periodically update my social handles with (assuming you choose to follow me). Calc-ya-later!
This slideshow requires JavaScript.