I'm the Abominable CPA (@cpawrestles on most social platforms): independent wrestling superstar*, and emotional punching bag to the massive men and women I lock horns with in armories and high school gyms around the country.
* for formalities more than anything else
We return to the way-back machine to the September 2nd, 1995 (one hour) edition of WCW Saturday Night, hosted by our Saturday Night specials: Tony Schiavone and Bobby 'the Brain' Heenan, from Center Stage Theater in Atlanta, GA (rumors that Center Stage was located on Badstreet are unsubstantiated)!
We start with a look back to Ric Flair's lambasting of Arn Anderson from last week. So hyped watching this. Like. 6 to 12.
Speaking of Ric Flair, he's sassy and fired up for some wrestles!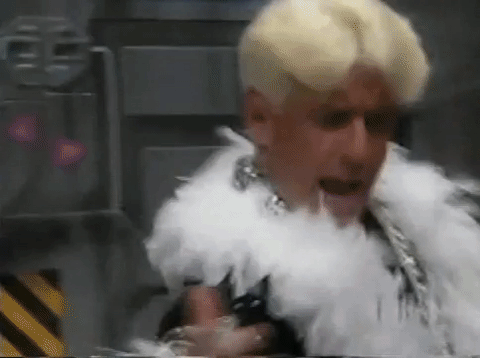 Flair's opponent tonight, from Texas City, Texas, Barry Houston!
Bobby calls Steve McMichael "Steve McNuggets." Bobby is very salty about being left off the Monday Nitro broadcast team.
Flair is really all fired up, and grabs a chair to use on Houston, but referee Randy Anderson grabs it from him before he can perform Ass to Faces on his prone victim.
Ric does more eye-poking than Maxwell Jacob Feinstein and I did in that classic at the birthday party a few months ago. True story.
Flair gets the quick duke with a figure four pin (even though Bill Watts would have fired the ref on the spot, counting the three with the guy's shoulders off the floor).
We cut to Eric Bischoff and Steve 'Mongo' McMichael at Planet Hollywood in the Mall of America (where the debut episode of Monday Nitro will take place)!
Mongo says stuff about tuning in to Nitro.
Back to Flair joining Mean Gene Okerlund at the ramp.
Flair says him and Arn have been to the moon, and risen from the dead. If Flair's drinking tales are even half true, I am inclined to believe this accusation.
Have I mentioned how fired up Flair is?
Coming up, we have Big Bubba Rogers against a pre-taped (huhuhuhuhuhuhuhuh) Hacksaw Jim Duggan!
Mean Gene shills the WCW Hotline!
Braves commercial. Ugh.
Back to Tony talking up Mongo, while Bobby stirs the shit.
Out next is Flyin' Brian (still with badass theme that you will be forced to listen to every time he has a match here).
His opponent tonight is Otis Apollo!
Picture in picture of Johnny B. Badd talking smack about what a bad man he is in a manner eerily similar to the rants from Nitro on Playstation.
Brian wins in a minute or so with a tornado DDT (which Bobby calls a Whirlybird :s)
Back to Mongo and Bischoff at Planet Hollywood, joined by a very purple Sting!
Sting and Flair will have a match on Nitro, and Sting threatens to eat Flair.
Coming soon is, holy crap, Disco Inferno!!!!~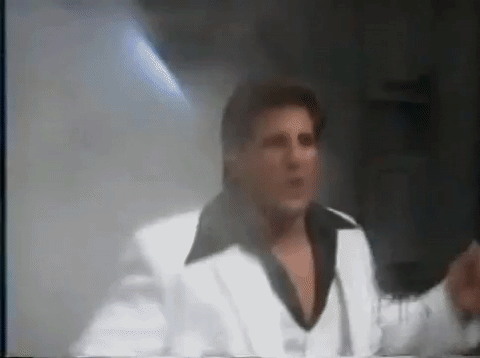 Back from break, we have Sgt. Craig Pittman against Terry Morgan!
Tony talks about how Disco Inferno is a sign of WCW bringing in the top wrestling stars from around the world.
Meanwhile, Bobby says he's gonna go to Monday Nitro and give McMichael what-for!
Sarge wins with the Code Red cross armbreaker in a minute or so.
Shoot over to Planet Hollywood with Bischoff and Mongo, who calls Heenan 'Bobby the Hyena'!
They are joined by Macho Man Randy Savage, who has a Chris Farley-like flush to his face.
Still to come, Hacksaw Jim Duggan!
Also, WCW is on the road!
Also, (*SPOILER ALERT*), Glacier is a baseball fan!
Back from break, we go to the Fall Brawl Control Center, hosted by Mean Gene Okerlund!
Rundown of the card (Hulkamaniacs vs. Dungeon of Doom, Harlem Heat vs. Buck and Slater for the tag titles, Renegade vs. DDP for the TV title, Arn Anderson vs. Ric Flair, Sgt. Craig Pittman vs. Cobra), including quick words from both DDP and Renegade!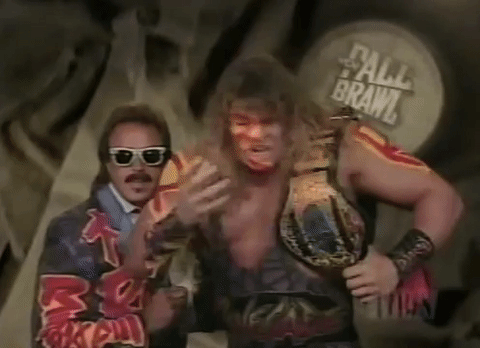 This Monday: the debut of Monday Nitro on TNT!~
Back from break, Gene is on WCW hotline shill duty, which as always you can access by calling 1-900-909-9900 ($1.49 per minute; kids, get your parents' permission before calling, where Gene teases a major star signing with WCW!
Hype for tomorrow night's Main Event, where Brian Pillman and Marcus Alexander Bagwell will fight it out, with the winner getting a match with Jushin 'Thunder' Liger on Monday Nitro!
Out next is is Harlem Heat with an injured Sister Sherri!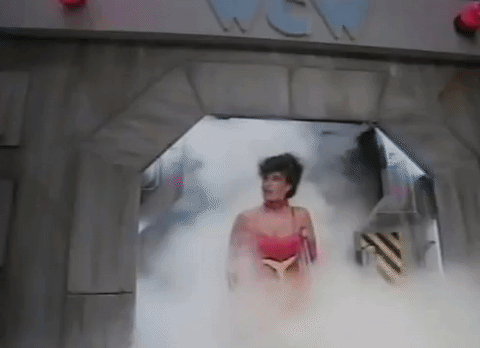 Mongo responds to Bobby (while calling him 'Bobby the Stain'), saying that there are two things you never do in life: play leapfrog with a unicorn, and mess with Mongo!
The Heat are up against Tim Horner and Steve Armstrong of Armstrong family fame.
Horner is awesome, as always. I even wrote in to Jim Cornette's show recently to tell him so, and he didn't completely bury me. Should have sent him some of my recent work.
At ringside, Sherri is obsessively caressing her necklace that she may or may not have stolen from Colonel Parker!
Heat wins with an Axe Kick. Sherri does not involve herself in the match at all, which draws the ire of the Heat. DEPTH~
Coming soon, we will take a look at Disco Inferno!
Back from the break, we go back to Planet Hollwood with Bischoff and Mongo joined by Hulk Hogan!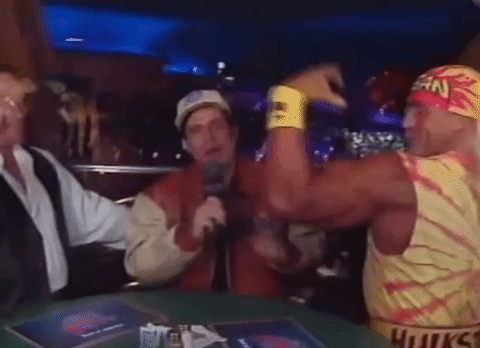 It'll be Hogan and Big Bubba Rogers on Monday Nitro. Hogan says he has a Pastamania pump. Hogan seems intent on proving himself to Mongo.
Speaking of which, out next is our main event of Big Bubba Rogers against Hacksaw Jim Duggan!
Bubba says he's gonna take Duggan's board and stick it where the sun don't shine, which I assume means SunTrust Park.
Bobby and Tony pontificate over Duggan's storied tape-fisted fighting lineage, as Evad Sullivan sits in the crowd with a bunny.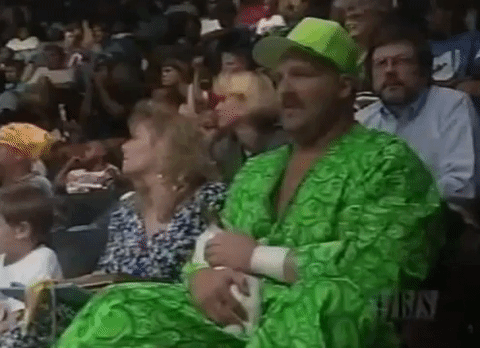 Apparently, DDP only kidnapped Ralph the Rabbit. He did NOT kill him. Apologies for the fake news (trigger warning).
Evad uses Bubba's rabbit allergies against him.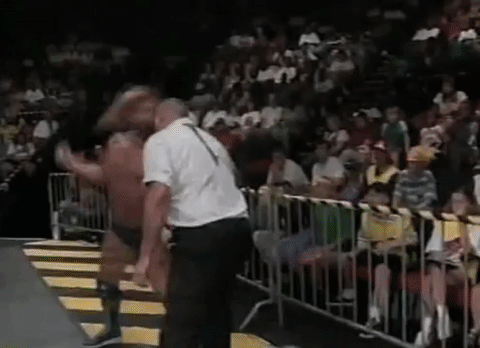 Bobby says it's a skunk, as Hacksaw tapes his fists, which prompts a disqualification from the ref. Boooooooooooooooooooooooooooooooooooooooooooooooooooooo.
Cut to Mean Gene, joined by the Taskmaster Kevin Sullivan. They talk about the stipulation for War Games where, if the Hulkamaniacs beat the Dungeon of Doom, Hogan gets Sullivan alone in the ring.
Sullivan says that, while Hogan will destroy him if it happens, Hogan has an evil living inside of him, and sends us home with a maniacal laugh.
Asset of the night: Kevin Sullivan for scaring the shit out of me.
For CPA's Audit of the Week, check out your fiscally fetch hero taking on one of the most underrated guys on the independent scene today: Alex Reynolds. One of my favorite matches so far. Like for thoughts; share for prayers!~
That's all from here. Fill out your customer review card. We don't read them; we just count how many syllables you used.
I'm on most social platforms at @cpawrestles. Catch me doing the big wrestles for WrestlePro on 5/20 at the Rahway Rec Center in Rahway, NJ (obviously, I hope), as well as many other places I will periodically update my social handles with (assuming you choose to follow me). Calc-ya-later!