I'm the Abominable CPA (@cpawrestles on most social platforms): independent wrestling superstar*, and emotional punching bag to the massive men and women I lock horns with in armories and high school gyms around the country.
* for formalities more than anything else
We return to the way-back machine to the August 26th, 1995 edition of WCW Saturday Night, hosted by our Saturday Night specials: Tony Schiavone and Bobby 'the Brain' Heenan, from Center Stage Theater in Atlanta, GA (rumors that Center Stage was located on Badstreet are unsubstantiated)!
First up, we get a recap of the bad blood brewing between Ric Flair and Arn Anderson, stemming from last week's faceoff between the two!
First up, we get the in-ring debut of Sgt. Craig Pittman's nemesis, the sassy Marine ninja: Cobra (vs. Tom Burton!)
Burton has the 'bass player from Van Halen' modern day haircut. Cobra, despite showing off his military greens in vignettes, is wearing elucha.com special black and red tights. Cobra is actually the guy who eventually became the nWo Sting. Also known as 'Jumpin' Jeff Farmer (not this guy.) Cobra gets the duke with a cool Cobra Clutch Slam. No sweet karate moves, unfortunately. Bobby pretends to understand the Morse code that comprises Cobra's entrance theme.
Tony informs us tonight, we will get Marcus Alexander Bagwell and Alex Wright challenging Bunkhouse Buck and Dick Slater!
Cut to 'Mean' Gene Okerlund with Cobra on the ramp. Cobra lays down the challenge to Sarge for Fall Brawl. He says only he and Craig know what the deal is with their beef.
Up next: my NJ Transit buddy (once; true story), Johnny B. Badd!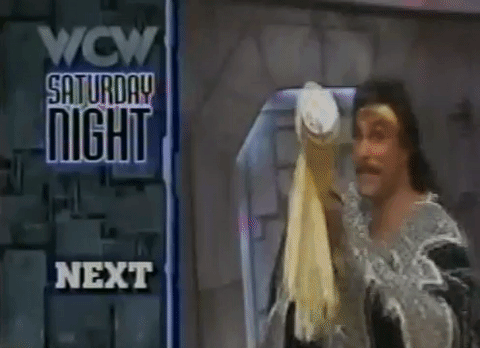 Commercial for Hulk Hogan's Harley Davidson sweepstakes starring 'Judas' Gene Okerlund heading out to the highway on a motorcycle!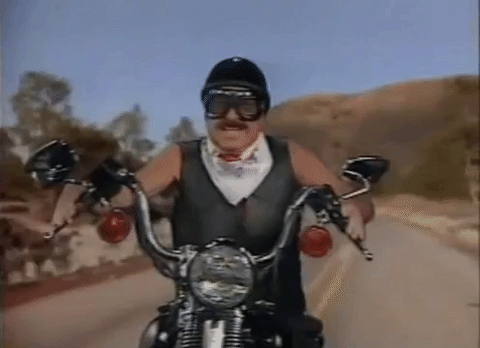 My copy of the episode has a commercial for a Braves merchandise catalog. Ugh.
We're back with the multitasking millennium man 'Mean' Gene at the Fall Brawl Control Center!
As per previous knowledge, the main event will be Hogan, Vader, Macho Man, and Sting, known as the Hulkamaniacs, against Kevin Sullivan, Shark, Kamala, Zodiac Man, and Meng! If the Hulkamaniacs win, Hogan gets Sullivan all by himself in the ring! Also, Harlem Heat against Buck and Slater, and Johnny B. Badd against Brian Pillman for a shot at the United States Championship.
Newly announced, we'll have Renegade defending the Television Title against Diamond Dallas Page (no doubt, the match that really solidified him as a Hall of Famer)! Further, Ric Flair and Arn Anderson will go one-on-one! As we learned previously, Cobra and Sgt. Pittman will have their long-awaited match, and complete with a message from Sarge! Apparently, he is ready!
Back to the ring, here comes Johnny B. Badd! You don't wanna make him mad! He's out here (throwing frisbees to the crowd) (if anyone has any leads on said frisbees, @cpawrestles, plz) to open up a Badd Blaster on this guy (unannounced):
Apparently, his name is 'the Grappler', played by my least favorite Saturday Night performance enhancer guy, Tony Vincent, who is also Marc Mero's brother! The things you learn from cagematch.net.
Tony proclaims that "the thing about Badd is: he's always in a good mood." He was in a good mood the time I met him, so I'll take Tony's assertion as fact.
Anyway. Johnny out-grapples the Grappler.
Cut to Gene, joined by Badd on the ramp. Badd's entire being is on fleek.
Brian Pillman comes to aggressively shake Badd's hand. DEPTH.
Later tonight, we'll have Bunkhouse Buck, Dirty Dick, and Colonel Robert Parker!
Recap of Kurasawa breaking Road Warrior Hawk's arm.
Kurasawa comes to the ring (with Colonel Parker) to break the hoof of one PONY JOHNSON!
A guy I wrestle with 'Black Stallion' Delroy Alexander, has some legit competition in the Equestrianweight Classic that I will now officially be booking and promoting.
As an added bonus, we find out a minute or so later that Pony has a lovely mane.
Kurasawa puts the Pony down in short order with a Japanese Armbar, as medical staff hits the ring to check on the downed steed. I say 'nay' to this turn of events.
Tony informs us we will be taken to the Dungeon of Doom when we return from commercial break!
1-900-454-4545 for the Harley sweepstakes!
Back to the Dungeon, where Meng and Kevin Sullivan are with the Master, who has a box in his hand. Said box contains a golden spike, which the Master places upon Meng's hand!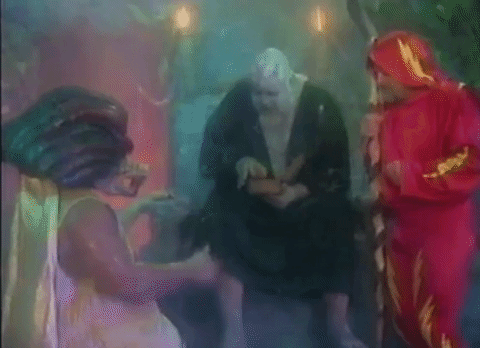 Out comes Kamala (with creepy music as always) (with Kevin Sullivan) as Kurasawa is leaving the ring to probably eat his opponent for the night: 'Playboy' Buddy Starr!
Some kid in the crowd steals the show with his Kamala impersonation: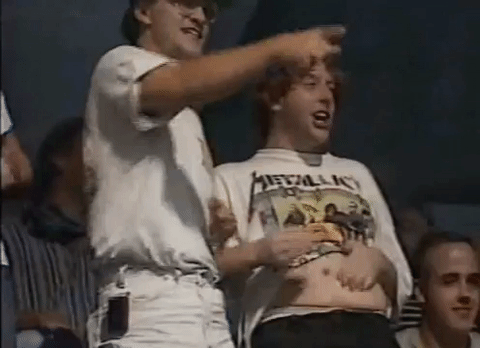 Kurasawa and Kamala make the eyes as the match is about to start. Kamala does the 'pin the guy the wrong way' trick. I find it hard to believe that savages don't know how to pin someone correctly after wrestling for 20-something years. Kamala wins with a splash. Sullivan puts the boots to Starr just for good measure.
Up next is Vader, who still seems to have trouble communicating with people effectively!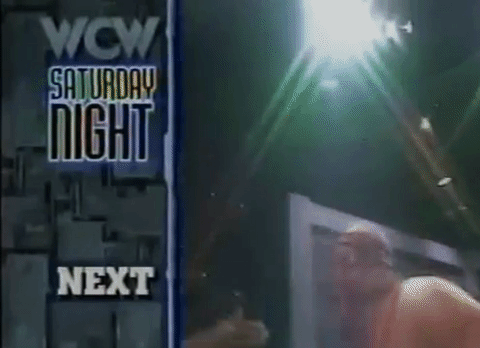 Vader is out to kill Tracy Benton!
Predictably, he kills Benton dead in a minute or so.
We cut to Gene on the ramp with Vader, who has his singlet on backwards. Many say it was a fashion error on Vader's part, but I believe it was a tactical move, as if it's on his back, you won't know it's Vader Time until it's too late.
Vader talks smack to Ric Flair and Arn Anderson. Vader says that his word to Hogan to face the Dungeon of Doom is 'wrestler's honor'. However, Vader also reminds us that he has unfinished business with Hogan and Sting.
Coming up, we have Harlem Heat, and most definitely with Sister Sherri.
Back from break, we have an in-depth dating profile video with Arn Anderson.
Arn says that everything he has ever accomplished has been for the benefit of those around him, and that Flair overlooked him. Promises that he will earn Flair's respect after the match at Fall Brawl.
Out is Harlem Heat with Sister Sherri, who immediately ducks out as soon as they leave the entranceway. Heat's opponents tonight are Barry Houston and Bobby Hayes.
Scuttlebutt is that Sherri is in love with Colonel Parker.
Sherri comes back out applying liberal doses of lipstick. She now has not only a ring on her finger, but a new necklace.
Bobby: "Boy, would they (Sherri and Parker) have beautiful children. I can just see all the little colonels running around with their big hats."
Booker gets the win with an awesome Harlem Hangover. Sherri pauses putting on lipstick to join Heat in the ring for celebration.
Up next: Renegade!~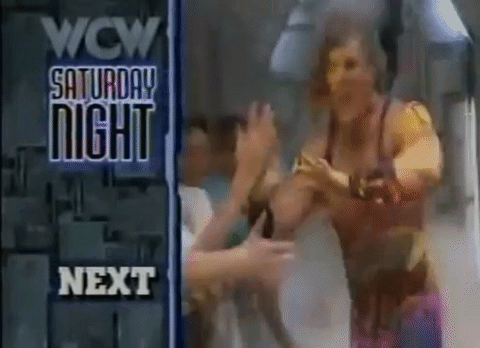 Also, coinciding with the podcast I'm representing on this little blog of mine, Sylvester Stallone's 'Nighthawks' is up next on TBS!
Out next is YOUR World Television Champion, Renegade, out to open up the ultimate can of whoopass on Ray Hudson!
Renegade wins in seconds with a flying splash!
Recap of the Giant (he later went on to have a cup of coffee on the WWE) confronting Hulk Hogan at Bash at the Beach! Basically, the guise was that Giant was Andre the Giant's son, and came out to throw what was meant to be Andre's old shirt at Hogan to play some fetch-ass (I know; it's not gonna happen) ~mind games~.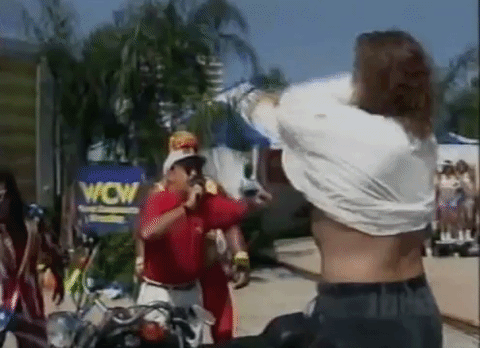 "I've been dirty all my life, and Buck's been stinkin' all his life, so that makes us stinkin' dirty!"
These guys are the fudging best!
We come back to a recap from this morning on WCW Pro, where Hacksaw Jim Duggan, quote Tony Schiavone, "broke bad." Basically, Duggan wrapped all the electrical tape from the entranceway around his fist and punched Big Bubba. Duggan then does an interview with (I think) Chris Cruise, where he says he's taking it back to the Duggan heritage, to which Cruise implies that he's referring to his great-grandmother in County Cork, Ireland, who was apparently a taped fist champion back in the day. Duggan corrects him, saying it was his GREAT-GREAT-grandmother, and she won it after going 26 rounds with the grandfather. He closes by saying 'taped fists are running wild in WCW'. I'm SOOOO excited for this.
Back to the 6:05, out come Lord Steven Regal and Earl Robert Eaton: the Blue Bloods!
This guy always has the best signs:
Their opponents tonight:
The Blue Bloods get the win with a Regal Stretch.
Up next, the Hulkamaniacs prepare for WAR!
We get a hype video for the Hulkamaniacs-Dungeon of Doom War Games match leading into Fall Brawl, which includes last week's Broken Skull Challenge with Vader doing a backflip!
Out next is Diamond Dallas Page (with the Diamond Doll) (without Maxx Muscle, sadly) to take on the Baddest Dad on the Planet:
I hope these Maniac Magee references don't alienate anyone.
The crowd is chanting 'ZERO', in reference to the Doll holding up grading cards for all of Page's moves.
Oddly enough, Doll doesn't have the cards, much to Page's chagrin.
Maniac takes a maniacal ass whipping, culminating in a maniacal Diamond Cutter. What a maniac.
Page talks trash to Renegade after the match.
Mean Gene is at the ramp with Diamond Dallas Page and the Diamond Doll. Gene is also concerned with Maxx Muscle's absence. Page gives no explanation, but says that Renegade cheated to beat him last week. He ends it by saying that he wears gold everywhere on his body, and Renegade is gonna put gold around his waist. Gene is all flustered at Diamond Doll.
Up next is the greatest tag team of all time: Bunkhouse Buck and Dick Slater (with Colonel Robert Parker)!
Back with Gene, who is joined by Ric Flair on the ramp!
Ric sums it up by saying that after all the incredible things they've been together, Arn is now stepping up to find out if he is an equal to Ric Flair. Made me wanna see the match even more.
Out next are the faces that run the place!
Buck and Slater (with Colonel Parker) come out to face Marcus Alexander Bagwell and Alex Wright!
Sherri comes out wearing her special dress (which oddly looks like her normal Harlem Heat dress) to flirt with Parker. Parker says she stole her Elvis Presley ring (which Elvis personally gave to him),  before planting a dreaded liplock on him!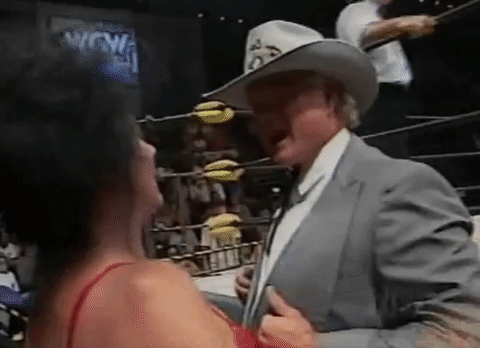 She then chases Parker into the ring, he trips on the ref, who calls for a DQ. She then continues her chase into the stands as the show comes to a close.
Asset of the night: Ric Flair gets the duke again simply for really putting an exclamation mark on why the match between him and Arn is so significant.
Honorable mention to Pony Johnson for name and mane.
For CPA's Audit of the Week, check out my battle against the prehistoric badass known as Caveman! I badly dislocated (?) (I think) my knee during the match, which explains my surly demeanor. I'm normally a really okay guy, as the first few minutes of the match will evidence:
That's all from here. Fill out your customer review card. We don't read them; we just count how many syllables you used.
I'm on most social platforms at @cpawrestles. Catch me doing the big wrestles for WrestlePro on 4/29 at Starland Ballroom in Sayreville, NJ, as well as other places I will periodically update my social handles with (assuming you choose to follow me). Calc-ya-later!