I'm the Abominable CPA: independent wrestling superstar*, and emotional punching bag to the massive men and women I lock horns with in armories and high school gyms around the country.
* for formalities more than anything else
I'm a huge fan of all things WCW, and asked Joe and Gomez to give me a platform to educate the masses on the likes of the Gambler, 'Hole In One' Barry Darsow, and the Dungeon of Doom.
I'll warn you that this is not a 'review' of the show, per se, as there are enough uninitiated voices who are all too willing to review shows for the purpose of trashing them, or deciding whether their contemporary view of what wrestling is supposed to be deems the shows worthy of viewership. It is simply me revisiting a simpler time when wrestling was fun and wrestling television more resembled the things we all grew to know and love about our fine sport. Plus, pro wrestlers shouldn't be critiquing shows publicly, because they look like silly billys when they do.
We go in the way-back machine to the August 19th, 1995 edition of WCW Saturday Night, hosted by Tony Schiavone and Bobby 'the Brain' Heenan, in front of a probably mostly touristy crowd at Center Stage Theatre in Atlanta, Georgia.
We get a recap of Vader and Hulk Hogan agreeing to put their long-labored rivalry aside to take on the Dungeon of Doom at Fall Brawl War Games in Vader's locker room. Vader's 'I'M GONNA GET IN THE SHOWER' go-home line alone makes this a winner.
WCW's writing team wanted to tap into the 'friend zone' market
Sgt. Craig Pittman vs. Steve Storm: Pittman's old Marine Corps buddy Cobra has been taunting Pittman as of late via vignettes where he does sweet karate moves: We learn that Renegade will defend his TV Title against MAXX MUSCLE tonight. Goddammit, I miss WCW.
Sarge does a cool move involving push-ups and basic military humility
Sarge decimates poor Storm's arm, and eventually gets the duke with a Code Red cross-armbreaker.
We get another Cobra vignette. Tony reminds us that the mere mention of him last week made Pittman throw up. Cobra is one sassy ninja Marine.
Sarge joins Bobby and Tony on the set. He refuses to talk about Cobra, and awkwardly backs away when they bring him up. DEPTH.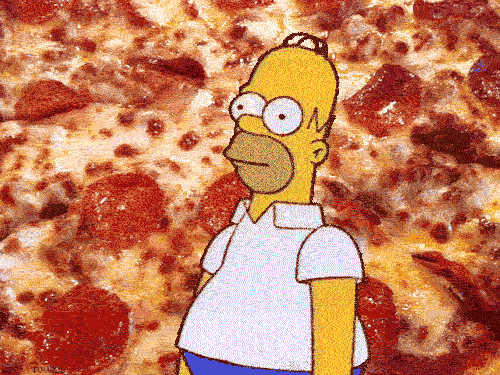 Coming up, we have a screaming Ric Flair (with distracting Arn Anderson) against Alex Wright!
Nasty Boys vs. two guys who get canned before they even get name graphics (further research concludes that they do, in fact, have names). One of them looks like the child of Ox Baker and Horace Hogan, if that gives you a good mental aid.
Nastys are hell for leather on these guys because they're bent on getting the tag titles, and call out all the other contending teams several times while their opponents are collecting their entrails shortly behind. Heenan cries blasphemy over Vader and Hogan shaking hands, despite Hogan no-selling Vader's gesture. Nastys win by actually killing a man in the middle of the ring with what I've dubbed the Shithouse Elbow from Sags. Nastys catch up with Mean Gene on the ramp to talk the tag team title scene. Knobbs proclaims "NICE GUYS FINISH LASK!" They're going back to their old, nasty ways. I saw Knobbs at a liquor store in Orlando last week. I can assure you: this change in attitude stuck for good.
Up next: we'll have Marcus Alexander Bagwell (Stars 'N' Stripes variation)!
But first, we cut to Mean Gene in the Fall Brawl Control Center!
The main event is slated to be Hulk Hogan, Sting, Randy Savage, and Vader against PTBNL (baseball reference) from the Dungeon of Doom! Also, we'll have (personal favorites) Bunkhouse Buck and Dirty Dick Slater (with best manager ever, Colonel Robert Parker) defending the tag titles against Harlem Heat (with Sister Sherri). Story here has been Parker trying to woo Sherri. What simple times we lived in. Lastly, Brian Pillman and Johnny B. Badd will face off for a shot at the United States championship!
Back from break for my Cody Rhodes List match of the night: 'White Lightning' Tim Horner against Marcus Alexander Bagwell.
This match is awesome. I have a weird man crush on Tim Horner as a wrestler dating back to when I first watched his SMW stuff. I'm sure most people would think it boring and ineffectual, but eff them; I like a fun, needlessly creative match from time to time (all the time).
Bobby pokes fun at Horner being from Morristown, TN, claiming that he can eat 16 gallons of grits before the waiter gets to him:
Tony: "You need to leave the people from Tennessee alone. How come you don't rip on anybody from Bucksnort, Tennessee?"
Bobby: "The capital?"
Match is still awesome. Horner is still to die for. We will find out the new member of the Dungeon of Doom after this. Not that I necessarily want this match to end, but this whole segment is becoming a cruel mistress. The Bag Man (Heenan's nickname, not mine) wins with a Fisherman's Suplex.
Still to come: Kurasawa (AND Colonel Robert Parker!)!
Back from break, and we cut to the Dungeon of Doom, where Kevin Sullivan and Master Curtis Iaukea are set to introduce the newest member of the group: it's Goldar from Power Rangers! Actually, it's Meng. I'm sorry. Meng had been brought in as a heavy by Colonel Parker, but I guess decided to take a journey to the darker side after losing a U.S. title match too many to Sting.
Back to reality, it's Kurasawa (with Colonel Robert Parker) coming out to Meng's old music against the Baddest Dad on the Planet:
Kurasawa is still wrestling in 2017, btw. And he's 50.
Kurasawa recently broke Road Warrior Hawk's arm, so Tony questions how we let a man like him into the USA. Kamala literally ate people. I think Tony has his work cut out for him here. Maniac maniacally gets his ass beat by Kurasawa, and loses to a maniacal armbar. What a maniac.
My copy of this episode has the old Ed O'Neill 1-800-COLLECT commercial.
Back from break, and here's Hacksaw Jim Duggan coming out, while Kurasawa is still in the ring meditating. Duggan's opponent, Red Tyler, is there looking dreadfully confused.
Duggan wins with the Three-Point Stance clothesline. We learn that the Emmy Award-winning commentator for the debut of Monday Nitro will be Steve McMichael. Bobby is incensed.
Vignette for the big War Games match. As great as it is, I can't find video of it, so I'll just include a clip of Hogan staging an early version of the Broken Skull Challenge starring Vader and Sting, which includes Vader backflipping off of an apparent wall of explosives!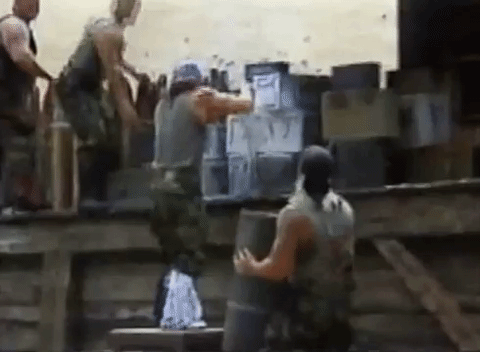 Commercial for a Harley Davidson sweepstakes. Call 1-900-454-4545 to enter.
Winterfresh commercial reminds me of the time my mom gave me $2 before I went to school and I spent all of it on Winterfresh and got yelled at for it.
Back from break for Harlem Heat with Sister Sherri.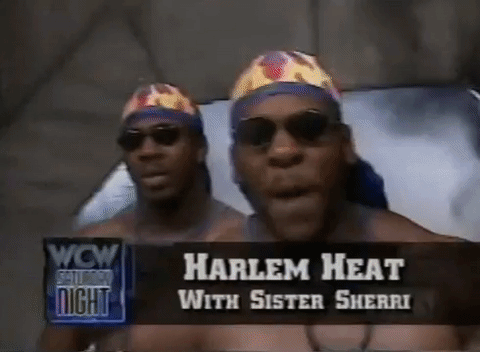 Tony suggests that Sherri hit her head too hard when she kissed Colonel Parker at the Clash of the Champions last week. Their opponents are John Taylor and famous Mick Foley tag partner, Larry Santo.
Santo is actually good (like many of the WCW performance enhancers were), but he's a Santo sandwich here for the Heat. Sherri comes wandering out with that Mallrats glow on her, wearing a big ring on her finger. Stevie lets out a good "ghooooooo" grunt trying to get a dead weight Taylor up for a suplex. Heat wins with a Heat Attack (seewhatIdidtherehuhhuhhuh).
Mean Gene with Bunkhouse Buck, Dirty Dick Slater, and Colonel Parker. Parker christens Sherri 'Ol' Twinkle Eyes', and chastises her for suddenly catching feelings for him, despite him initiating this courtship. Slater makes things all serious and talks about wrestling and stuff, and says something about them feeling like the south side of a dog pile of puke (or at least that's what it SOUNDED like). Bunkhouse Buck continues to be my triple main man.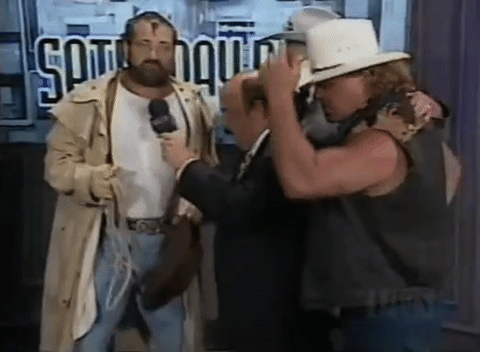 Up next is Brian Pillman!
Also, up next on TBS (not sure if this was 'Movies for Guys Who Like Movies' era yet), is Big Jake starring John Wayne!
Flyin' Brian is out to one of the best entrance songs ever, 'Blondes Have More Fun', against his surly looking opponent, Sonny Trout:
Tony and Bobby pontificate over what kind of a competitor Maxx Muscle will be tonight against Renegade. Sonny has 'Southern Posse' written on the legs of his trunk pants, which got me doing some research. It was a team seemingly exclusive to WCW and various outlaw promotions in Florida. Furthermore, they hold the distinction of having a guy who comes to the ring and plays harmonica for their entrance. Outlaw wrestling is the best.
Anyway. Pillman does cool Pillman stuff, and sends Sonny and his harmonica packing back to the old posse back in Florida.
Mean Gene is at the ramp with unfortunately not John Popper, but Flyin' Brian.  Says some words about tempers flying with Johnny at Fall Brawl.
'Up next: Renegade!!!~
Back to Gene with DDP, Max Muscle, and the Diamond Doll. DDP and Dave (also known as Evad) (he's dyslexic, ya see) Sullivan are still feuding over the affections of the Doll/DDP killing Evad's bunny (Ralph, in case you were curious), and Renegade got involved for no particular reason on WCW Pro recently. DDP claims he pulled a groin muscle, so he can't compete tonight, and is sending in Maxx to sort things out
Back from Slim Jim and Hot Pockets commercials, we have, from MUSCLE BEACH, Maxx Muscle coming out to the ring for his TV Title match against Renegade.
Renegade comes to the ring with Jimmy Hart and completely bum-rushes Max for a very quick win.
Up next: Ric Flair vs. Alex Wright!!!
We're back with Gene shilling tomorrow night's Main Event episode, which has a main event (no capitals) of Evad Sullivan against Big Bubba Rogers!
Flair comes out with Arn Anderson (wearing a tye-dye shirt!). Alex Wright comes out with no shirt because money doesn't need one.
Tony notes how casual Arn looks at ringside. Alex looks like a new man facing Flair here. As Bobby might say, he has some extra schnitzel (I think that's a proper German reference) in his strikes and movement. Video starts to short out, so I can only assume Slenderman joined the Horsemen at some point during this match. Don't go to cagematch.net for reference on that one. Let's just go with 'it definitely happened'.
Flair gets a Figure Four on, and of course, Bobby taunts him, yelling, "do you quit? Nein?" Hilarity.
Slenderman keeps coming out to the ring. Alex was like 18 here, so I think he falls under Slendy's jurisdiction.
Miraculously, Alex is able to fight the clutches of the 'Man, and keep fighting it out with Flair. Arn continues to be Weekend At Bernie's casual as can be, which causes Flair to confront him at ringside for not helping him win the match a little bit.
Finally, Flair wins with the rope assist gimmick I thought never actually worked: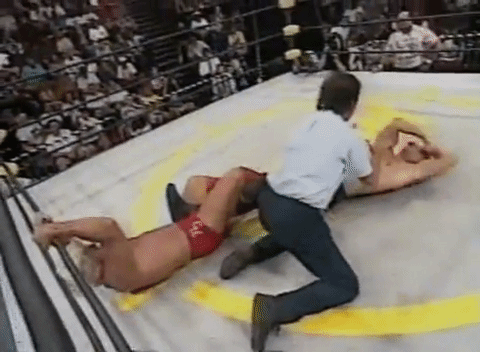 Flair is all indignant with Arn because he didn't help, and Arn is all 'I told you Slenderman was gonna come help. You should have trusted me'.
Cut to Gene on the ramp with Flair and Arn, but the video is all staticky with no sound, so I'm now convinced he's in my house.
Sound comes back, and Arn says he wants to see the killer Ric Flair again. Arn walks off, indicating a possible showdown in the near future. Flair says he's taking a taxi home. With that shirt, I think Arn is actually driving said taxi.
Show closes with the video file ending abruptly.
Asset of the night: Toss-up between Ric Flair and Tim Horner. Both showed exemplary qualities of teaching the greenhorns how to deduct more from less.
That's all from here. Hope this has been fun for you as it has been for me. Leave feedback and all that.
I'm on most social platforms at @cpawrestles. Catch me at WrestlePro on 4/29 at Starland Ballroom in Sayreville, NJ, as well as other places I will periodically update my social handles with (assuming you choose to follow me). Calc-ya-later!